Another year racing past and the Holidays provide the perfect transition – a time for family gatherings, traditions, reflection, and fresh starts as we look forward to 2019. Winter is in full form here in Koochiching County, the Christmas tree is dressed up, and the anticipation of the Holidays has everyone in good spirits.
In this Holiday newsletter, we'll provide an update on projects moving forward, highlight a local business that makes the most of all of the seasons, meet a couple that returned "home" from Alaska, and get a unique perspective from year-round island dwellers on Rainy Lake.
From all of us here at the KEDA Office, we want to wish everyone a safe and memorable Holiday Season and a prosperous New Year.
Projects Moving Forward.
Cantilever Distillery and Boutique Hotel. Construction has begun on Koochiching County's first legal distillery and boutique hotel in historic Ranier. The ownership team celebrated the kick-off of Cantilever Distillery (named after the historic cantilever rail bridge connecting Ranier to Canada) by having a whiskey barrel smash. Ranier's Mayor Dennis Wagner, local legendary fishing guide Barry Woods, and other local dignitaries had the honor of swinging an ax at a whiskey barrel to officially launch the project. As part of the event, a toast and tasting of Cantilever's whiskey was shared as well as plans for the site which include the main distillery and a 3-story 31-room Trademark Collection Hotel by the Wyndham Hotel Group. This destination property is scheduled to open in Spring of 2019. For more information go to: www.cantileverdistillery.com.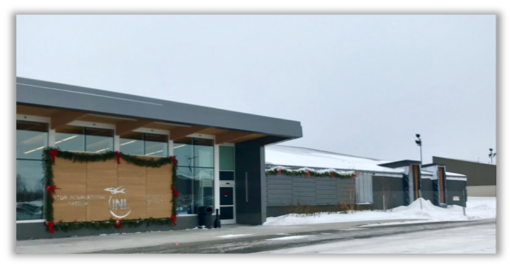 Falls International Airport Terminal – Phase II. Construction is well underway on the new 10,000 square foot, $5.8 million dollar Phase II portion of the terminal. This phase is connected to the new terminal building and will house US Customs and Border Protection, the Transportation Safety Administration, the National Weather Service, as well as offices and conference room for the Falls Airport Commission. The Falls International Airport is one of 9 airports in the state that has daily commercial service (by Sky West/Delta) and one of 4 Ports of Entry providing US Customs for International traffic. Completion for Phase II is scheduled for early Spring of 2019.
Rainy Lake Vacation Campground. Construction is underway on this 32-acre site on Rainy Lake that will feature 30 RV-sites and dock slips. The campground is in a protected harbor and the sites will include sewer, water, and electric hook-ups for nightly, weekly, monthly, and seasonal stays. In addition, the site will have laundry facilities, restrooms, a community area and fire rings. The RV Campground is scheduled to open in the Spring of 2019. For more information go to: www.rainylakerv.com.
Digi-Key Partners with the KEDA to utilize their Foreign Trade Zone. Digi-Key Corporation of Thief River Falls, Minnesota has recently requested and was granted Foreign Trade Zone Sub-Zone status for their manufacturing facility in Thief River Falls. The US Department of Commerce's Foreign Trade Zone Board announced in November that Digi-Key's application for production activity at their facility was forwarded to Customs and Border Protection for formal comments en route to granting the Sub-Zone status. Digi-Key, founded in Thief River in 1972, is one of the largest distributors of electronic components for more that 750 suppliers worldwide. Their growth has led to the expansion of their facilities in Thief River to more than 1 million square feet and more than 4,000 employees. For more information go to: www.digikey.com.
For more information on the KEDA and Koochiching County, visit our website – www.businessupnorth.com.